Ambaji Mandir Live Darshan – Shri Arasuri Ambaji Mata
---
Shri Arasuri Ambaji Mata Mandir, famous all over India as a pilgrimage site, is located in Data taluka of Banaskantha district in the state of Gujarat. Which is known as a legendary Shakti Peetha. Millions of devotees come to Ambaji Tirtha to pay their respects. In order to maintain their happiness and facilities as well as to get peace of mind and strength, the state government has made a concerted effort to renovate the temple and complete the work of the summit and have honored the golden kalsho. It is the only Shakti Peeth in India with 358 golden kalash. Among the 51 Shakti Peethas, Hridayasamu Ambaji is the center of faith of millions of devotees.
Ambaji Mandir Live Darshan
Ambaji, a holy pilgrimage site in the Aravalli range, is situated at an altitude of 1600 feet above sea level at 240-20 U latitude and 720-51 longitude. The population of the surrounding villages is about 20,000. In Ambaji village, trade of goods related to pilgrims and marble industry has developed on a large scale.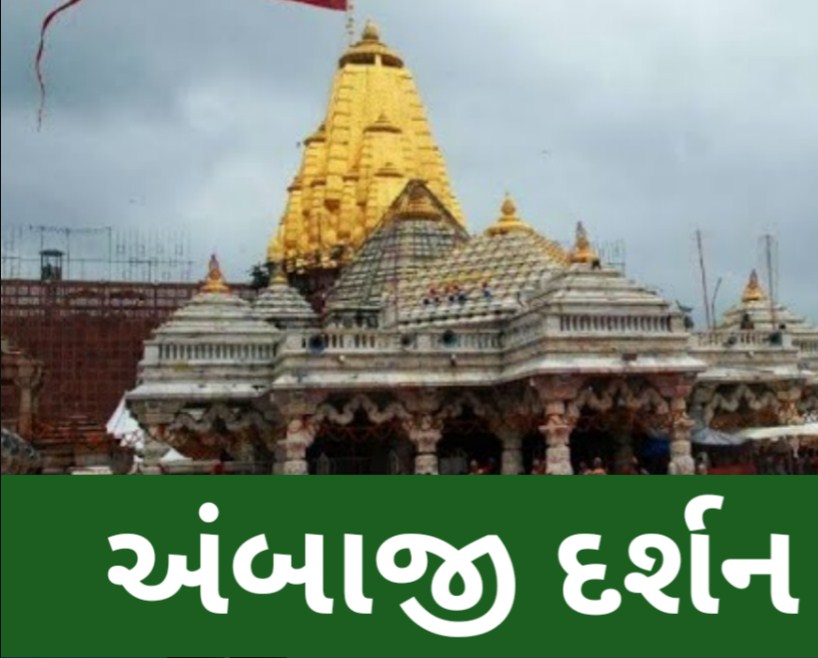 According to the story of Maa Amba's manifestation, Prajapati Dakshe organized a Mahayagna named Bridaspati Sak. Dakshe invited all the gods. But his son-in-law did not call Lord Shankar. Hearing the news that her father was having a yajna there, Sati Devi reached her father's place despite Lord Shankar's opposition. Inviting Lord Shiva to his father's Mahayagna held there and hearing his husband's Nida in his father's mouth, he fell into the Yajna Kunda and gave up his life. Check Ambaji Mandir Live Darshan.
Lord Shiva saw the unconscious body of Goddess Sati and worshiped Tandava. And carrying the body on their shoulders, the three began to walk around the world. Then, fearing that the entire creation would be destroyed, Lord Vishnu dismembered Sati's body with his chakra and scattered it all over the earth. Parts of Sati's body and ornaments fell on 52 places. At this place, one Shakti and one Bhairav ​​assumed small forms and settled down.
Ambaji Mandir Live Darshan
These 52 Mahapithas are mentioned in Tantra Chudamani. One of these Shakti Peeths is considered to be Arasur Ambaji. Mataji's heart is believed to have fallen in Arasur. The Bhagavad-gita mentions that Lord Krishna's hair-cutting ceremony took place at Arasurma in place of Amba. On that occasion, Nad Yashoda planted Jawara at Mataji's place and stayed in Ambaji for seven days. Even today the place can be seen on the Gabbar mountain. It is mentioned in the scriptures that Padvo stayed in Arasur to perform Mataji's penance in Arasur during exile.
Lord Rama and Lakshmana also came to the Shrigi sage's ashram in the forests of Arbuda to find Sita during the exile. When the sage sent them for darshan to get Mataji's blessings, Mataji was pleased and gave Ajay arrow to Lord Rama to kill Ravana. And it is believed that Ravana was destroyed by that arrow. And legends and folktales introduce this mythical abode. Description of Ambaji The tradition of hymns can be found from the Puranas to Adi Shankaracharya and in recent history and travel descriptions. The temple is believed to be of Prague historical period. But considering the available situation, the present site seems to be twelve hundred years old.
Before independence, Rajvi Sribhavansihji was a unique devotee of Parmar Mataji. He is highly educated and is known as Vidya Priya Rajvi. After Bhavansinhji, his son Prithvirajsinhji ascended the throne. According to the merger agreement, the donor state merged with the Union of India. There was a lot of correspondence between Shri Prithviraj Singhji and the then Minister of State for the Government of India Shri H. Gopal Swami Iygar and then Dr. KN Kanje and later Shri V. Check Ambaji Mandir Live Darshan.
Ambaji Mandir Live Darshan Links:
Finally, in a letter dated 25-5-53 by Shri Prithviraj Singhji requesting the President of India to refer the matter to the Supreme Court of India, the Supreme Court Prithviraj Singhji was asked to hand over the possession of Ambaji Mata Mandir to the Provincial Officer, Palanpur. The Shri Arasuri Ambaji Mata Devasthan Trust was then set up by the State Government for the administration of the Ambaji Temple.
Thanks to visiting Ambaji Mandir Live Darshan – Shri Arasuri Ambaji Mata.