Shree Somnath Temple Live Darshan, First Jyotirlinga
---
Somnath temple, located in Saurashtra, Gujarat, is considered to be the first Jyotirlinga, a devotional representation of the Hindu God Shiva. One of the oldest temples in India, this temple dedicated to Lord Shiva has also been described in Rigveda. It is also called Prabhas Tirtha. The temple is among the sacred pilgrimage sites for the Hindus. This temple has been the centre of attraction for the world for its structure. The temple was demolished several times in history but was rebuilt with the same splendour every time.
Somnath Temple Live Darshan
The temple, managed by Shree Somnath Trust, is built at the shore of the Arabian ocean on the western corner of the Indian subcontinent. The colour of the ancient Jyotirlinga complex situated in the temple is unique. The temple is also mentioned in ancient texts like Skanda Puranam, Bhagavata Purana, Shiva Purana.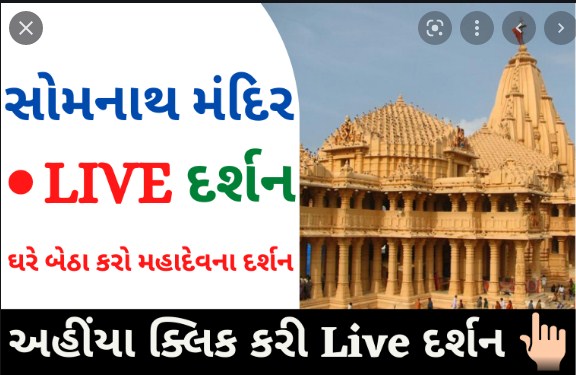 The Somnath temple is located in Prabhas Patan near Veraval in Saurashtra on the western coast of Gujarat. It has also become a tourist spot in Gujarat.
The temple trust regularly broadcasts live darshan of Somnath temple. Today's live darshan can be viewed from here.
Jyotirlingas are sacred shrines of Lord Shiva; it is believed that Lord Shiva himself visited these places and hence they have a special place in the hearts of devotees. There are 12 of them in India.
Live Darshan Links:
YouTube માધ્યમથી LIVE દર્શન માટે અહી ક્લિક કરો
સોમનાથ મંદિર LIVE દર્શન માટે અહી ક્લિક કરો
The Somnath temple is located in Prabhas Patan in Saurashtra, West Gujarat in India – at the confluence of the mythological Saraswati, Hiranya and Kapila rivers – the Triveni Sangam.It is considered to be the first of the jyotirlingas – the first place where Lord Shiva manifested himself.
Thanks for visiting Somnath Temple Live Darshan.